Good Towards 30 CLE Credits
May 23-31, 2022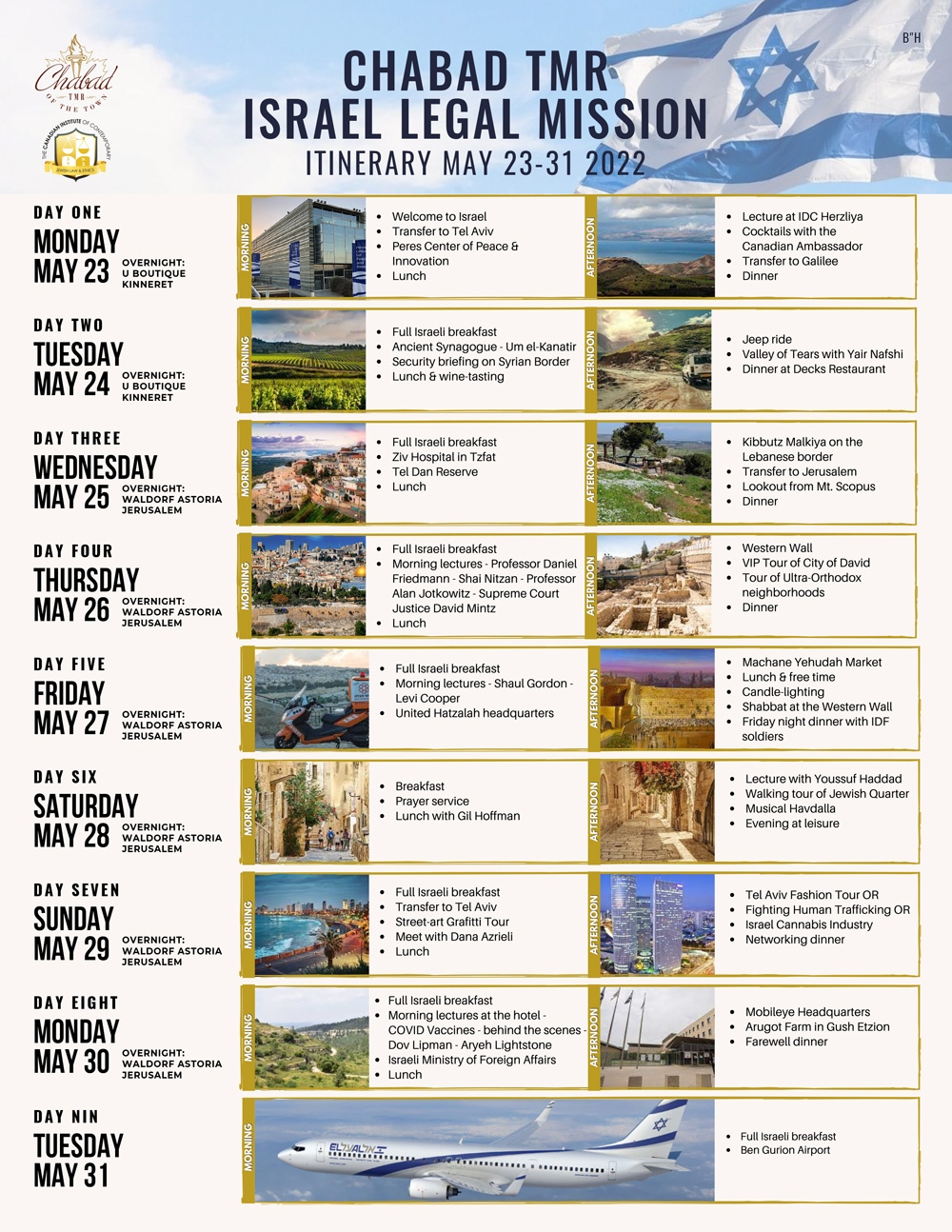 Itinerary
We are pleased to present to you the itinerary and tour package for our 5th Israel Legal Mission. This has been carefully crafted to provide an experience that is engaging, fun, uplifting, informative and inspirational for you. Our mission adheres to the highest standards of professionalism, friendly, warm with a dedicated service from our Israel Maven partners.
DAY 1 - ARRIVAL -  Monday - May 23
Welcome to Israel!!! You will be met by our VIP service representative.

Those who were on Historiv UAE / Israel Tour,will e picked up from the hotel.

Visit the state-of-the-art Peres Center for Peace and Innovation which celebrates the vision of

former President Shimon Peres & the incredible "blue-and-white" technological innovations that

have changed the world we live in.

Packed lunch

Lecture at the IDC - Legal aspects of conflict with Syria (Israeli sovereignty over Golan, airstrikes

& targeted killings to prevent Iranian entrenchment in Syrian Golan Heights)

Meet with Canadian Ambassador to Israel Deborah Lyons over cocktails at her residence

Transfer to the North & check-in to your hotel - unpack, rest & relax.

Dinner at the hotel

Overnight: The U Boutique Hotel - Kinneret
DAY 2 - GOLAN HEIGHTS - Tuesday - May 24
Full Israeli breakfast at the hotel

Visit the remarkable Ancient Synagogue at Um El Kanatir that has been painstakingly

recreated using revolutionary technological methods.

Meet with former IDF commander Yaakov Selavan & hear a security briefing while looking out

over the border with Syria.

Lunch & wine-tasting at the boutique Bazelet Winery in Kidmat Tzvi
Explore the Golan Heights by jeep in an off-road adventure including the abandoned Syrian

Headquarters near Kuneitra - pending military approval

Visit the Valley of Tears together with Yair Nafshi & hear about the heroic stand of the IDF

against the overwhelming might of the Syrian Army

Dinner in Tiberias at Decks Restaurant on the banks of the Sea of Galilee - included

Overnight: The U Boutique Hotel - Kinneret
DAY 3 - UPPER GALILEE - Wednesday - May 25
Full Israeli breakfast at the hotel

Check-out & departure from the hotel

Meet with Dr Salman Zarka - Arab-Israeli Director of Ziv Hospital in Tzfat who was also responsible for treating Syrian injured in the civil war
Explore the gorgeous Tel Dan Nature Reserve where nature, history & hydro-politics come together

Packed lunch

Hear about life in the shadow of the Hezbollah from local resident, Eitan Oren, at Kibbutz Malkiya on the border with Lebanon & meet with IDF combat troops - pending military approval

Transfer to Jerusalem

Enjoy a spectacular lookout over Jerusalem from Mt Scopus with musical accompaniment

Check-in to your hotel

Dinner

Overnight: Waldorf Astoria, Jerusalem
DAY 4 - JERUSALEM - Thursday - May 26
Full Israeli breakfast at the hotel

Lectures at the hotel:
Checks and balances in the Israeli Legal System - Former Justice Minister - Professor Daniel 

Friedmann 

Fighting Corruption - Former State Prosecutor - Shai Nitzan
Medical Ethics in the COVID era - Professor Alan Jotkowitz
Alternative activity for non CLE participants

Meet with Supreme Court Justice - David Mintz

Lunch at local restaurant

Time for reflection at the Western Wall

Exclusive VIP Tour in the City of David highlighting the newest excavations & areas that are not

open to the general public 

Dinner on own

Late night tour of the Ultra-Orthodox neighborhoods of Jerusalem & meet with local residents

Overnight: Waldorf Astoria, Jerusalem
DAY 5 - JERUSALEM - Friday - May 27
Full Israeli Breakfast at your hotel

Lectures at the hotel:
The Legal Battle against Terrorism - House demolitions, NGO's, Supreme Court intervention
The use of force against protestors - Shaul Gordon former legal adviser to Israel Police
The Sabbatical Year in Israel & the Heter Mechirah controversy - Rabbi Dr. Levi Cooper
Alternative activity for non CLE participants

Visit the United Hatzala Headquarters & meet with Arab & Jewish first-responders who are

saving lives daily

Experience the vibe at the Machane Yehudah Outdoor Market as Jerusalem prepares for

Shabbat.

Lunch on own & free time to shop

Join thousands of Jews from around the globe in joyous celebration of Shabbat at the Western

Wall

Shabbat Dinner in the Old City with IDF soldiers

Overnight: Waldorf Astoria, Jerusalem
DAY 6 - AT LEISURE - Saturday - May 28
Breakfast at your hotel

Day of relaxing and leisure

Morning services at the great synagogue of Jerusalem (optional)

Open discussion on Judaism & beginners service at hotel

Shabbat lunch & fabrengen at the hotel with Gil Hoffmann - senior Political Correspondent of

the Jerusalem Post

Meet with Arab-Israeli Youssef Haddad - a wounded IDF veteran who fought in the Second

Lebanion War and has dedicated his life to defending Israel & promoting integration of Israeli

Arabs into society

Optional walking tour - Hidden secrets of the Jewish Quarter

Musical Havdalla on Mamilla-Alrov Promenade

Evening at leisure & dinner on own

Overnight: Waldorf Astoria, Jerusalem
DAY 7 - TEL AVIV - Sunday - May 29
Full Israeli breakfast at the hotel

Enjoy a Street-Art Graffiti tour in the Bohemian Florentine neighborhood in South Tel Aviv
Meet with business woman & philanthropist Dana Azrieli

Lunch on own at the Azrieli Center

Participate in a Fashion Tour in Tel Aviv for a fascinating journey into Israeli culture & identity OR  Fighting Human Trafficking - tour in downtown Tel Aviv

Networking dinner with one of the large Tel Aviv firms

Overnight: Waldorf Astoria, Jerusalem
DAY 8 - GUSH ETZION - Monday - May 30
Full Israeli breakfast at the hotel

Lectures at the hotel

Behind the scenes in the race to secure vaccines against COVID

Repairing the Fault Lines in Israeli Society - former MK Dov Lipman
Abraham Accords & their impact for the Middle East - Aryeh Lightstone - former aide to

Ambassador Friedman

Alternative activity for non CLE participants

Israel & the ICC - meeting with Ministry of Foreign Affairs

Lunch at local restaurant

Participate in an extraordinary visit to Mobileye Headquarters with founding engineer Mois Navon & hear about the incredible Israeli technology that is saving thousands of lives and

leading the way towards autonomous vehicles

Visit the Arugot Farm on the eastern edges of Gush Etzion & meet with founder Jeremy Gimpel

Farewell dinner at local restaurant

Overnight: Waldorf Astoria, Jerusalem

DAY 9 - DEPARTURE - Tuesday - May 31
Full Israeli breakfast at the hotel

Check-out & departure

Transfer to Ben Gurion Airport & fly to Canada
NEXT YEAR IN JERUSALEM!!!
Trip Cost - All coste are in USD
$4,000 USD - Cost per person based on double occupancy 
$1,800 USD - Single Occupancy Supplement 
$500 CAD - Deposit per person is necessary to confirm reservation.
If you leave Monday late night, checking out Monday, you may deduct $250.
If you are joining both missions, you may deduct $750 off the total.
The tour package includes the following items
2 night's accommodation at the Setai Hotel - Sea of Galilee

6 night's accommodation at the Waldorf Astoria Hotel in Jerusalem Breakfast daily at the hotel

Lunch on days #1, 2, 3, 4, 6 & 8 as per the itinerary

Dinner on days #1, 2, 3, 5, 7 & 8 as per the itinerary

Transportation in a luxury bus with WiFi (when available)

Superb English-speaking private tour guide

Entrance fees and all activities based on the itinerary
The tour package does not include the following
Flights

Early check in or late check out at hotels, unless otherwise noted Any sites, meals or items not mentioned above

Tips and gratuities - standard for driver is $3-5 per day; for guide is $7-10 per day.
Important information
Israel requires one to be double vaccinated to enter. Both Israel & Dubai require a PCR test before flying.

Due to Covid situation, you may register and cancel within 30 days of the trip. So, you have until April 15 to cancel without penalty. 

Some of the itinerary may change before the trip as certain parts are beyond our control.

We have made arrangements with a travel agency, but you are in control of how you get to Dubai and from Israel back home.

Dan Abitbol, West Island Travel, 514-807-8478 (Cell) 450-686-8478 (Office) 

[email protected]
Insurance
WE STRONGLY URGE YOU TO TAKE OUT COMPREHENSIVE TRAVEL INSURANCE IN THE EVENT THAT YOU NEED TO CANCEL YOUR TRIP.
For your convenience, we have made arrangements with SMS-Travel Insurance Center of Omaha, Nebraska. SMS has over 25 years of experience as worldwide insurance brokers and can help you choose the policy that best meets your needs. Our contact person is Yonah Engel, mention promo code: ISRAELMAVEN. Email: [email protected] ; USA phone (402) 404-5205.
VAT tax regulations
Please be aware that according to the new Israeli tax laws, all guests holding Israel citizenship, even those with dual citizenship/passports will be charged VAT tax. You will be responsible for this portion.